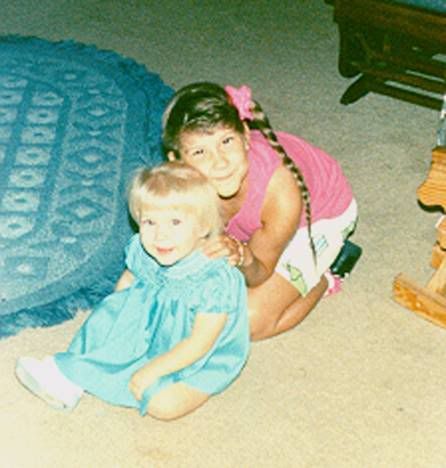 Who in their right mind would allow these two to move out and live on their own without adult supervision and parental guidance? Well to me this is who they are . . . and yet, it's not who they are at all. They don't really require adult supervision anymore and they will always have parental guidance when they need and are wise enough to seek it. 
Brittany
is working for a financial institution and taking care of her own life and needs and has for some time now. We are proud of who she is as a person and the way she is growing into adulthood.
Hope is the person in many ways that I wish I could have been. She is confident of who she is. She enjoys being Hope all the time. She thinks and lives like a teenager. I like that about her. She is not trapped in trying to be a grown up too early. 
When I was 18, I left home for the first time in my life. I moved 700 miles away. That early February morning I was sitting in my 1970 Chevy Vega with all my belongings jammed in from front to back. Dad tapped on the window and I rolled it down. He bent down, looked at me, and said one sentence that is forever burned in my memory. . .  
"Michael you've learned a lot of things from me over the past 18 years. I think its time for you to forget a lot of them." 
I never really understood this comment completely till this week. Both of our little girls moved out of the house. While their journey of 7 miles is not the same as mine of 700, it's a burden on the heart. This week, their mom and I have come to understand what dad said to me in 1978 when I left home. 
In the course of their lives, they learned a lot from us that wasn't good. I want them to know that it's a great thing to take all that they saw in us that is good in us and imitate that. We've tried to teach what is right and wrong. We've tried to provide well and be good parents. But we taught them a lot of things that I hope they forget. They know the list already.  
The Old Book says, "Train a child in the way he should go, and when he is old he will not turn from it" (Proverbs 22:6). This we have tried to do. They may not always do what we want or choose what we think they should, but they know The Way and when those days come that the wheels fall off, we're only 7 miles away. 
telemicus out