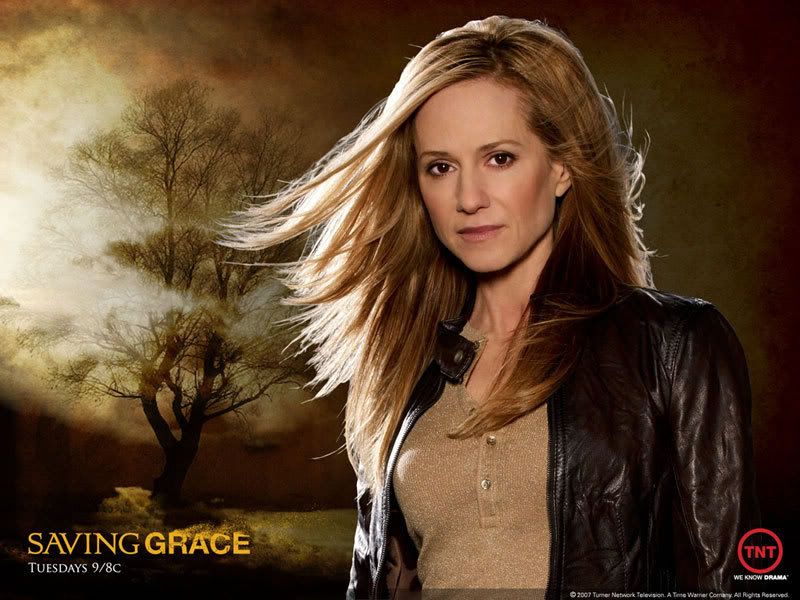 This week a new show premiered on TNT called, Saving Grace. It stars Holly hunter as Grace – an immoral, hard working and hard drinking detective in Oklahoma City. Grace seems to have a good heart but life has been hard on her, so she runs to men and alcohol for comfort. God places her in a crisis and in that moment, she calls out to him for help. When she utters the words, "God help me," a snuff dipping, rough looking man named Earl says, "Whataya need?"  
Earl explains that he is there to help her. Through a couple of remarkable experiences he proves to her that he is an angel. He tells her that this is her last chance to get her life right. The balance of the program is Grace trying to come to terms with this reality and to make sense of why God would want to save her. This is not a show for the family. It's an adult drama. But it deals with this character in her full breadth. As you know, I don't buy the notion of total depravity. Though we are made in the image of God, sin has marred that nature, but it rarely takes it all. Grace is a real and flawed character fighting for life while God is searching for her. 
Jesus spoke to His followers and said, "Are not two sparrows sold for a penny ? Yet not one of them will fall to the ground apart from the will of your Father. And even the very hairs of your head are all numbered. So don't be afraid; you are worth more than many sparrows" (Mat 10:29-31). ). I love that!!! I love that He is willing to use flawed people like Peter, Matthew, Mary Magdalene, you and me. But more than that, I love that as He looks at these floundering and halting followers he declares that they are "worth more than many sparrows." 
I guess I like this show because it takes a realistic look at a person who is genuine without apology. She's not claiming to be anything more than what she is. Her closest friend is a believer but does not judge her. She has a brother who happens to be a Catholic Priest and has been gently pushing her to come back to church for some time. Like most of us, Grace has some questions for God. Earl tells her that humans always ask the same questions, but if he gave her the answers there would be no room for faith.
There are those among us who believe that man is all-evil. I understand the corruption of sin. I grasp its insidious nature and damage it wreaks on each of us. However, Jesus looked at humanity and saw something worth saving. Don't call anyone worthless. Tough times will come and some of us have and will fall to the ground, but "don't be afraid, you are worth more than many sparrows." 
telemicus out