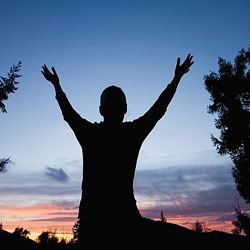 I have one of those clocks with two alarms. When the first rings, I usually shut it off, turn off the fan, turn on the radio, and climb back under the covers. Fifteen minutes later the second alarm goes off. I sometimes doze off during this intermission, but sometimes I pray. This morning I strolled into prayer for one of my kids. As I lay there thinking about the prayer I said to God, "I rarely ask you for anything, but I really am serious about this one."
Sometimes I feel like He doesn't hear me. Not because he is mad at me or I don't deserve his attention, I just figure that me and my stuff are not high on his "to do" list. I don't mean any disrespect in this comment. I believe that I am his child and he loves me just as he does all his kids. But I suppose there are times when I don't feel particularly favored. (I hope you're not hearing more than I mean to say here.) I honestly try to not to bother God with the mundane. Think of it this way; perhaps to be saved and to be his child ought to be enough, should I really be asking for more?
Yet, when I notice a heavy burden attached to my heart, I go to Him and tell Him what's wearing on me. I looked at Jesus and wondered what he was thankful for in life. From what we can see, he always gave thanks for food and provision. It's notable that he said this at the tomb when Lazarus was waiting for his wake up call, "So they took away the stone. Then Jesus looked up and said, "Father, I thank you that you have heard me" (John 11:41).
It's Thanksgiving Week and over the years, I've enjoyed a great number of blessings. I have a good close family and we love each other. We have enough of what we need and most things we want. We have friends and good health for the most part. We live in the greatest country in the world and even with its flaws and problems, its far better than whatever is in second place. Above all, we have Christ as our Savior and God as our Father and His Spirit as our Comforter. So in the big scheme of things I'm just saying that I think things are not bad and so "Thank you for hearing me."
telemicus out