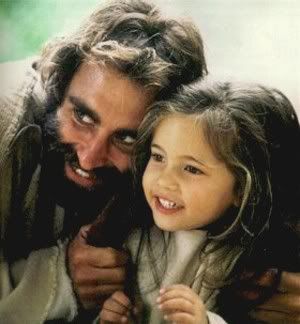 You gotta be kidding me. A Democratic labor leader, Cecil Roberts, said a couple of weeks ago, "I used to be a community organizer and I'm in good company; Martin Luther King was a community organizer. Listen, Sarah, Moses was a community organizer and yes, Jesus was a community organizer."
This was a slap at Sarah Palin.
Jesus was NOT a community organizer. He was a revolutionary. From the moment of his birth, he upset the world. Check out The Revelation chapter 12. In the spiritual realm and the physical, there was an effort to destroy this baby. He lived within a political system poisoned by power and yet he did not organize protests. He did not run for office or a seat with the elders. He did not seek to be a scribe. He went about doing good.
His enemies criticized him for not being religious enough, made fun of his faith, and insulted him by questioning his ancestry. They falsely charged him with blasphemy; they accused him of being demon possessed and of using the devils power. They hated him like no one else.
He lived within a religious system that was corrupted by power and hypocrisy. Yet he did not organize a new branch of Judaism. He went to synagogue and worshiped according to the law.  He honored teachers as a boy and challenged them from his teens until his death. His life inspired the godly and convicted the unholy. His love endeared him to the people. Yet he resisted and even refused to become a community organizer (King). He called people to DO good not to organize.
His teachings were radical. Among them… He openly called God, "Abba" the most intimate of terms and taught others to do the same. This revolutionary act ushered in a new way of relating to God. He taught his followers a radical new way to live; to love their enemies, to do good to those who hate, to serve those who are demanding, to give and not expect a return, to be holy beyond the law, to sacrifice self for the good of others, to turn the other cheek, and to be kind to the rude.
Some call him a pacifist. These people don't really know him. He took the time to make a whip and then used it to drive people out of His Father's house who were turning it into a Super Center instead of the Temple of God. And this was not a one time event, but perhaps a habit. They hated to see him coming. Yet he acted alone. He didn't even organize his own followers to do these things. He called us to stand for good and righteousness and for our Father.
Jesus' declared a new level of morality. He demonstrated dignity toward women. He upheld the sanctity of marriage and the value of family. He modeled forgiveness, but beyond that, he modeled a refusal to pass judgment when society demanded it. He fed the hungry, healed the sick, and rescued those oppressed by the Enemy. In the end, He faced the horrors of hate in his physical body. He bore the weight of the sins of the world on his own soul. He faced the greatest shame and deepest loneliness that a human has ever known and yet forgave his oppressors and loved his own to the very end.
Jesus was not a community organizer, he was a radical, revolutionary savior. He changed the world forever. "No one ever spoke the way this man does" (John 7:46).
telemicus out