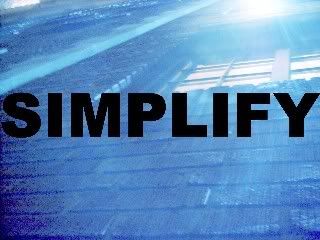 I don't like complicated. It gives me tired head. I don't want complicated theology. I don't want complicated cars. I don't want complicated menus and I don't want complicated politics. But it seems there are those among us who enjoy taking the simple jewelry of any subject and turning them into a tangled mess of tiny chains that require tweezers, magnifying glass, pliers and the jaws of life to untangle. 
I don't care if he intended to call her a pig or not. It was a stupid comment and he did know better than to issue the line. But that is the first knot in the necklace. Then the media grabs the it, then the opposition, then the other side and in a while, the point is lost and necklace looks like metallic spaghetti.  
How about we simplify this thing? The role of government is not to solve problems. They don't know how and they aren't good at it when they try. They should do fewer things and try doing them well. Well Michael, you're so bright, what should they do? Thanks for asking. Here is my political theory. 
Government should…
Protect the borders from enemies and aliens.

Protect the rights and freedoms of the citizens.

Protect the helpless (unborn, children, elderly and impoverished.)

Maintain a military equipped to defend our nation and stand with our friends.

Educate our children through High School.

Enforce our laws and punish lawlessness.

Live within fair and reasonable tax revenue.

Be limited in the degree they can intrude in business.
Government should foster…
The private development of business to meet national needs.

The private development of business for medical research.

The private development of business for scientific research. 
Government should not…
Protect its people from failure. (If you fail – it's on you. Deal with it.)

Create debt. (We have to live within our means the government should too.)

Bail out failed businesses. (If your business fails – it's on you. Deal with it.)

Police the entire planet. (We cannot be the sheriff for the world.)

Give money to our enemies. (If they need aid – we will distribute it, period.)

Regulate private behavior
Okay – well that's my simple look at it. Tell me what you think. Make sure that your suggestion doesn't fit into one of the sections I've listed. I'll post some of your thoughts as we go along. This could be fun. 
michael out