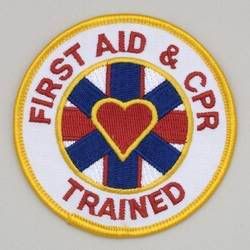 When I was a boy, I was in Webelos. This is the extent of my scouting career. I remember it as fun. I loved to earn badges and patches. In the course of the year that I was a Webelo I earned several. I don't have any idea what happened to them. I suppose they lost their significance in my life and somewhere along the line – got tossed. The thing is – I earned those badges and when I wore them, they proclaimed my accomplishments to everyone. 
As adults, we often wear figurative badges earned through suffering. It may be a medal for enduring a rotten boss, a rebellious child, a contentious spouse, an abusive home life or a friend's betrayal. Having earned these badges, we feel justified in bad attitudes and malevolent behavior. People say, "Well if you knew his background, you'd understand." I'm not saying that we didn't earn them honestly or that we don't deserve them. In fact, those who earn these badges sometimes deserve more honor than they ever receive.  
On our trip last week, in the course of some long talks with my younger brother Scott I learned that as long as we feel the need to wear our merit badges we can't find healing. Our badges stand in the way of facing life without excuses. They hinder us from interacting with the world without being defensive. They keep the wounds in our souls fresh and open to new pain. They prevent us from cultivating healthy deep relationships. Through them, we relive the pain that earned them. But we don't glory in the victory that earned them so much as we suffer once more and forge new resolve to prevent it from happening to us again. 
If you're tired of hurting; if you've had enough of loneliness; if you'd like to find healing and peace, I think this is the starting place. Identify the badges you wear. Name them. Acknowledge each one and validate its legitimacy. Forgive the ones who wounded you. (not easy) Take that badge off your heart and put it away. You won't forget it; and you shouldn't, but in order to heal, we have to go through the process. It is not easy and it may not be fast, but you can do it. In time, you will have a scar. That's okay. A badge is a proclamation to the world that you're not over it; a scar is a private personal reminder of your former pain. 
When Jesus said, "Take up your bed and walk." He was saying, you don't need to lie there anymore." When we entrust our lives, even our wounded hearts, to God, we don't need to wear the badges anymore. Jesus would ask you, "Do you love me beyond the pain that you've suffered?" Our love for him is vital in taking the merit badges off and finding healing. You see, when He heals our hearts, the scars may remain, but pain will pass. Healing has come. 
telemicus out