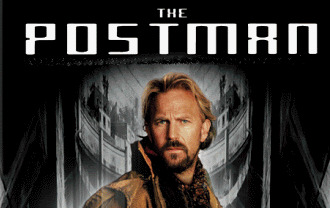 I love the movie, The Postman. It got a bad rap. The year is 2013; there is no government and no communication. There are militias that rule over various territories. The Postman (Costner) is a drifter trying to survive. He finds a bag of mail and a skeleton wearing a postal workers uniform. He assumes the identity of the Postman to get a meal. Then he made up a story that the United States have reorganized and a new President has been elected named Starky. He tells the people, "Starky has this thing he always says, 'Things are getting better.'" He gave them hope. 
Guess what. . . these are NOT bad times. These are challenging for some, difficult for others, but they are not bad. We live in a time of opportunity. We are free, strong, prosperous and resourceful people. Unemployment is low, interest rates are still very low, outside of the fake price of oil driving the cost of fuel and goods higher, the economy is stable. We are winning in the war against the fascist enemies.  
It is here that we teach our kids balance. We "keep our heads when everyone around us is losing theirs," it is in these times that we display strength and confidence in God and country. It's now that we teach trust in God, to believe what is good, to stand on principle and refuse to buy into the panic and fear that the media promote every day.  
No, I'm not unaware of the price of gas, the condition of the economy, the financial institutions, the price of food or the mortgage crises. But the truth of all this is that every entity that exists in the context of abuses requires correction. This is true in small business, sports teams, churches, government, corporations and even families. Those that don't make corrections fail – every time. 
Failure is sometimes the right thing. The government (we the people) shouldn't bail out failing businesses. If they fail, it is on them. The day will come when these oil companies will be asking for help because they are failing. Their abuses will be visited back upon them. Just as the savings and loans in the 80s, the over valued dot-coms of the 90s, and all the other failures we've seen when wisdom is abandoned and abuse is tolerated. I'm not without compassion. I know that when an organization fails it hurts people. I've been in businesses and churches that failed because of foolishness and abuse.  
So, here is my advice. Don't wait on the government to fix things. They only know how to mess things up. Turn up your thermostat (if you need to), drive less (if you want to), be wise, look for solutions and opportunities to change your life. Dream big! Take risks! Believe in the gifts that God gave you and don't buy into the Chicken Little panic that you hear blasting from your radio and T.V. We are the children of God. We live in the greatest country on the face of the Earth. We stand firm with American resolve and confident faith. Things are getting better. 
telemicus out