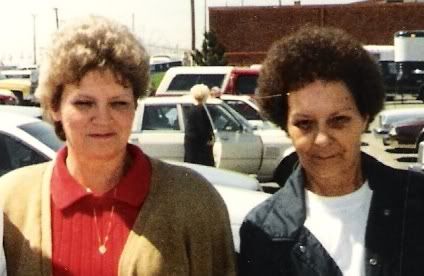 This is my mom and my Aunt Mary. Mary is near the end of this life's journey. I don't think it has been an easy trip for Mary. She endured the absence of her husband for many years of active duty in the military. She worked to care for her son and her mother. I remember her being an angry woman when I was a boy. I had no idea of the crushing weight that the stress of adult life could place on a person. I wish that I had been more understanding of the adults I've known who struggled under the load of life. That note of regret brings me to what I really want to share this week. 
One of the burdens that Mary talked about in her last days is a fear that she might not make it heaven. On the contrary, she seemed convinced her itinerary included a warmer climate. She's a believer. My dad baptized her some years ago in our home. But like many of us, she knows the reality of her own sin and struggles with far more clarity than she knows the depth of God's forgiveness and the extent of his love. 
The Old Book affirms the security of the believer. I used to tell my students, "You are not sort of saved – you are good and saved. Your salvation is not precarious, dangerous, tentative, perhaps, maybe or iffy. It is bought by blood and guaranteed." We need to have confidence in the One who saved us. Paul wrote, "Yet I am not ashamed, because I know whom I have believed, and am convinced that he is able to guard what I have entrusted to him for that day" (2 Timothy ).  
Brennan Manning wrote, "When we trust God it may mean more than when we say we love Him." Our salvation is not about our performance or religious acts, keeping laws or rules, or doing more good than evil. It is fully based on the relationship we have in Jesus Christ. All that we do in life that is good, is an expression of God's presence in us and our love for Him. We all know that we don't have massive quantities of good in us… but we have Him in our hearts and that is the source of all that is good. 
Don't focus on your failures or weakness. Focus on the goodness of Christ, His noble heart, His love for you and His desire to see you saved. Do what is right and good because you love Him. And in those moments when the enemy calls back to your mind all the wickedness of your broken heart – run with abandon and dive into the arms of your Father and trust that he can handle it all and loves you anyway. Relax Mary . . . He's got you covered. 
telemicus out