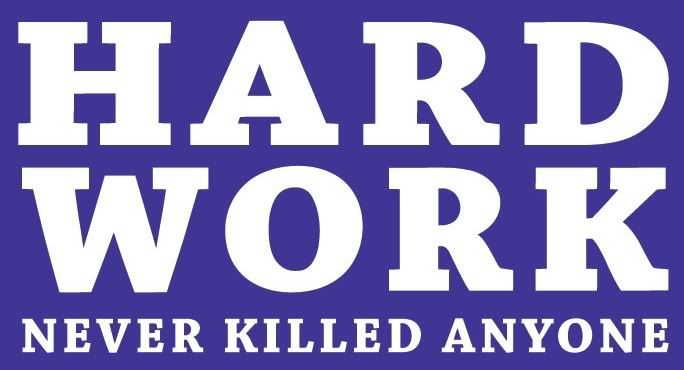 On Tuesday of this week, we were watching American Idol, (that dreadlock boy, Jason Castro is from Rockwall.) This week the format changed a bit and the contestants sang two songs. They told the judges they would give their critique for both after the second song. But Ryan threw the world out of balance (for Paula) when he asked for a quick response from the judges. Paula is party scattered all the time, but when she got to Jason Castro, she critiqued both songs and he hadn't sung the second song yet. When they pointed out her stumble and confusion, she became flustered and said, "This is hard!" 
There was a day when doing hard work was something to be pursued rather than avoided. Longfellow wrote:
The heights of great men reached and kept,

Were not obtained by sudden flight,

But they, while their companions slept

Were toiling upward in the night.
I am so tired of people whining about things being hard. The first line of the book, The Road Less Traveled is, "Life is hard." And it is. Even when life is not difficult, certain aspects of our endeavors are difficult and they should be. Some tasks are mentally challenging, others require physical strength and on occasion, the hurdles we face require the tenacity of determined perseverance. If we are to achieve success in any area of life, it will require Hard Work. I'm not promoting more work. Being a workaholic is perhaps the evil twin of laziness. I'm saying we should embrace hard work in every effort. Solomon wrote, "All hard work brings a profit, but mere talk leads only to poverty" (Proverbs 14:23).   
You're no doubt familiar with the expression, "work smart, not hard." Using your brain is hard work. Hard work is good. It accomplishes the difficult, it conquers the unbeatable, it overcomes barriers, it overrules the will, it says "Yes" when the weak say "No," it achieves the impossible; it topples the arrogant and by shear force of its value wins the day. No matter the object of your endeavor, whether it is the execution of your occupation, the success of your diet, the effort to save money, the goal of fitness, the pursuit of happiness, the quest for knowledge or the search for God  – WORK HARD.  
telemicus out