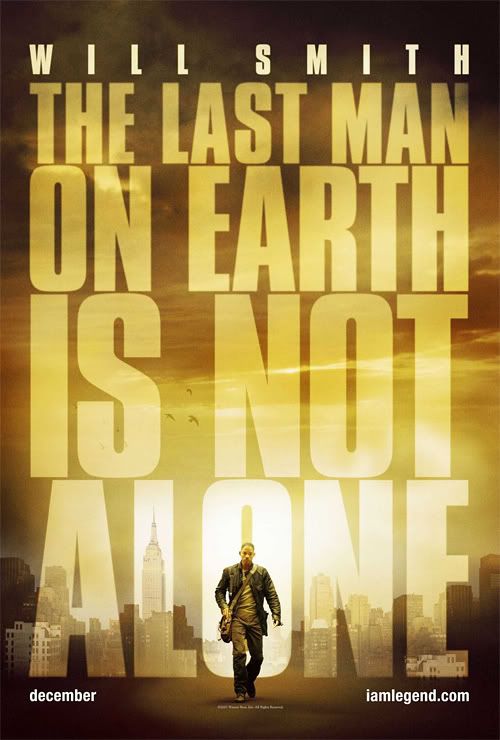 We saw, I Am Legend at the theater when it came out. It was alright, but I wasn't pleased with how it ended. So when it came out on video, we gave it another try. I liked it better, but still not as much as I hoped. The Boy gave me fits about wanting to see the alternate ending, but you had to buy the movie to see it. I finally relented. On Monday, we watched the movie with the alternate ending and new scenes added. It is WAY better. (IMO) 
Many bloggers have written about the movie, many talking about the allusion of the virus to sin and its horrible impact on the world. There is definitely a spiritual vein in the story. One of the most prominent is the influence of the music of Bob Marley. I'm sure Bob Marley was a gifted man, but he was also very misguided. Many of the things he said in terms of philosophy were versions of the words of our Master. And while he believed in some version of God, he was in no way a Christian. His penchant for the herb is well known and it fogs the value of many of his words. 
Robert Neville (Will Smith) quotes Marley in one scene and says, "Light up the darkness." Marley's reason for this statement was the hope of uniting mankind through love and music. These are not bad things. However, it was Jesus who first spoke of lighting up the darkness when he said, "In the same way, let your light shine before men, that they may see your good deeds and praise your Father in heaven." (Matthew 5:16) Jesus purpose for lighting the darkness was that the praise of the Father. When man seeks to lift himself, God is set aside. As we praise God, He lifts us up. 
When John Lennon's Imagine came out, like most people, I loved the song. A man at my church, who I really admired, tried to show me the shortcoming of Lennon's words. It was Marley's contention that music and love could change the hearts of men. It is the influence of God through the character of Christ and the work of the Spirit that changes people. There are many things that inspire us to change, but at the end of the day, only God can change us.  
Jesus said, "I am the light of the world." He also said, "You are the light of the world." Of course, we must let our light shine. Expose the deeds of darkness. We need to be good and noble people who make a difference in the world, but not for the praise of man, not for the glory of the world, rather for the praise of our Father. 
telemicus out